Easily discover and connect to unique third-party partners who can integrate seamlessly with an advertiser's eCommerce site via Commission Factory.
What is the Integrations Marketplace?
The Integrations Marketplace is a specialised directory where advertisers can discover technologies including software publishers, app tracking partners, user journey data and much more – we like to call them "integration partners"..
This new marketplace makes it easier for advertisers to connect with these types of partners without needing any further technical knowledge or unique coding (i.e. no additional javascript for you to implement). This is because integration partners are now integrated with Commission Factory's MasterTag – meaning, we take care of the integration on behalf of the advertiser.
How to find integration partners using the Integrations Marketplace
Upon logging in, advertisers will be able to find the Integrations Marketplace under the 'Marketplace' dropdown and clicking 'Integrations' in the top navigation bar.

Here, advertisers can access a dynamic catalogue of all the integration partners currently live with Commission Factory's MasterTag.

Each widget contains the name of the integration partner, their logo, a short description of their offering and a call-to-action button.
To learn more about them and/or connect, simply click 'View More' to be directed to their new profile page, where advertisers will see the integration partner's three main benefits, a description of their offering, a setup guide, general information, shared data, integration security (great information for the advertiser's technology team), and their data policy.

How to connect to integration partners
To connect to the integration partner, the advertiser must first be integrated with Commission Factory's MasterTag. To find out how to connect with the MasterTag, click here.
Once integrated with the MasterTag, the advertiser may find the integration partner they wish to partner with and click 'View More'.
On the profile page, click 'Connect' beneath the integration partner's logo. The integration will automatically be applied on the advertiser's eCommerce site via the MasterTag, with reporting available instantly*.
*In the case where no further external setup and/or unique identifier is required from the integration partner. You can learn more about setup requirements by reaching out directly to the integration partner.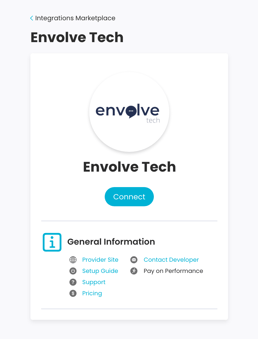 Communicating with integration partners
In some instances, advertisers should contact integration partners prior to connecting to receive more information about what is needed for the integration, or to learn more about their capabilities. Advertisers can get in touch with integration partners by finding their contact details in the new profile page. Alternatively, Commission Factory has an in-platform Message Centre that allows direct communication between advertisers and affiliates, including some integration partners. Learn how to use the Message Centre here.
Frequently Asked Questions
If you have further questions or would like to learn more, please read the advertiser FAQ here.