This guide helps affiliates find advertiser programs for a specific target market.
Affiliates who may be based internationally or are looking on expanding to another target market can discover which brand programs they can promote in the Advertiser Marketplace.
In the Advertiser Marketplace, affiliates can use the Filter function to search for programs in specific Target Markets. Affiliates can also search and select 'Global' in the Target Market filter. Advertiser programs listed as 'Global' indicate that the brand services more than one market.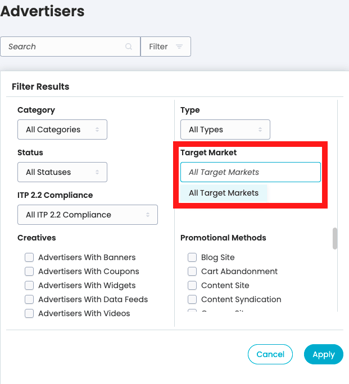 After applying the filter, affiliates can click the three-dot icon on the right-hand side of the brand to 'View Advertiser'. This will open a new tab that includes all the information on the advertiser program. Underneath the advertiser's profile picture is a link to the domain their affiliate program is tracking. Please see the screenshot below for an example.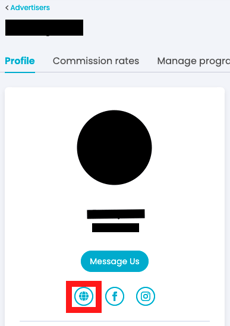 Please note: To make sure the brand services the target market you are promoting in or are expanding to, we recommend researching on the brand's website indicated in their profile page to identify whether the program services the market in question.
For more information on understanding which advertisers to promote, we recommend checking out another one of our Help Centre articles here.