The traffic sources report contains an overview of the websites that are sending clicks and sales. By default, the traffic source report will be graphed against conversions, however, to change this metric simply click on the dropdown box and select the applicable measurement.
The graph can be measured against:
Clicks
Impressions
Sale Value
AOV (Average Order Value)
Conversions
Conv Rate (Conversion Rate, CR%)
Commission
AVG Commission (Average Commission Per Sale)
EPC (Earnings Per Click)
Date Ranges
The date range for the transactions can be changed by clicking into the field (see screenshot below) and either choosing one of the common options such as This Week or This Month, or Custom where it is possible to specify the date ranges to a custom timeframe.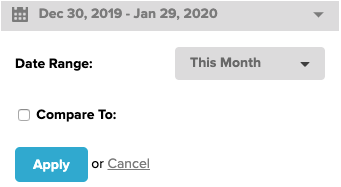 Sorting Traffic Sources
To sort traffic sources, which by default are listed alphabetically, click on the relevant column you wish to sort by, ascending or descending.
Exporting Reports
As an affiliate, there is the option to export reports. Towards the bottom of the dashboard, there are three options to choose from:
Export To CSV
Export To JSON
Export To XML