This article helps affiliates understand how Commission Factory operates as an affiliate marketing network.
Commission Factory is an affiliate marketing network that acts as the intermediary between advertisers (also referred to as merchants) and affiliates (also referred to as publishers or partners). Commission Factory provides the technology used to track and attribute sales to the correct affiliates, as well as facilitating the payment of affiliate commission on behalf of the advertiser. 
For advertisers, Commission Factory hosts a vast directory of thousands of affiliates ready to promote their brand.
For affiliates, Commission Factory is a platform that enables access to hundreds of brand affiliate programs at no cost.
The primary commercial model operated is a CPA (cost per action), also referred to as cost per sale or cost per action. This means affiliates will only earn commission on the sales they drive, and advertisers only pay commissions on valid sales driven by affiliates.
How are sales tracked?
As the network, Commission Factory attribute sales to specific affiliates via the installation of a pixel by the advertiser on their website, and the use of the appropriate correlating tracking links by the affiliates to promote. Affiliates can promote via text links, banners, data feeds, video, email, plus many other formats. A cookie is dropped whenever a consumer clicks on an affiliate's tracking link when being redirected to the advertiser's website. If the consumer completes a transaction on the advertiser's website, Commission Factory will attribute the sale to the affiliate whose tracking link was clicked last within a specific period of time. This time period is called a cookie period. It means if a user clicks a tracking link and does not purchase immediately, but goes away and comes back within the cookie period, and is still the last affiliate or commissionable channel click (depending on the advertiser's attribution logic), then the cookie is still valid and will still attribute commission to the affiliate.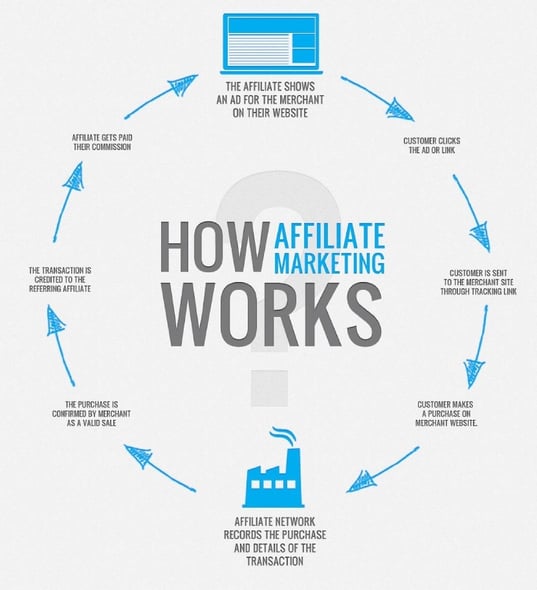 The most utilised attribution logic is based on the last click, however, some advertisers can vary in their methodology. The most utilised cookie period is 30 days, however, again, it can vary from advertiser to advertiser.
It is best to check both these elements before joining a program, affiliates can usually find this information on the advertiser's program profile page.
How does Commission Factory make money? 
There is no cost for an affiliate to use the Commission Factory platform, the way the network generates revenue is through a fee referred to as 'override'. This is charged to advertisers and is an additional percentage of the sale value on each transaction.
Please note: Override does not affect the percentage of commission passed back to the affiliate. 
For a general overview of what Affiliate Marketing is, please visit our blog post here.