Knowing what exposure placements are available for different affiliates and managing those is a key part of affiliate program management.
In your Commission Factory Advertiser account, you can view all exposure packages and placements available. Under "Marketplace - Placements - Directory" all available affiliate opportunities will be visible here.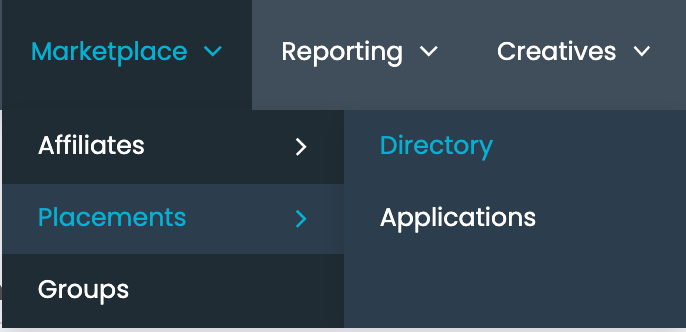 The directory will show each placement in a box and it will include the affiliate name, the type of placement (for example "Gold Package"), description of the placement and what is required including CPA increase and/or fixed fee cost, plus the number of days left to apply for the placement.

If the affiliate is not yet part of your affiliate program, you can invite them directly from the placement listing. Once joined, you can then apply for the placement opportunity.

Clicking on "Apply" will take you to another page that shows more detail including the deadline, run dates for the campaign, terms and conditions, required creatives.

Please note that if a commission increase is required, the placements platform will ask you to enter the % increase to the current commission rate, not the actual rate you want to offer. For example, if your default commission rate is 5% and you are going to offer the affiliate 7.5% for this campaign, you will enter an increase in commission of 50%. The reason why this is the required format is that if you have a number of commission rules the % increase will apply to all of the rules. This is completely automated and the increase will be automatically applied once the placement has been confirmed by the affiliate. You do not need to set up a commission rule as the % multiplier will be applied to every rule that is set up.

Once you have entered all the desired offer details, you will agree to the terms and conditions and hit submit. The affiliate will then review the applications and approve or decline. If they decline your application they will include a reason for declining your application.

While your application is pending, you can go back and view your application, edit or withdraw from the "Applications" menu. This area will show you all the applications you have made for placements and their status.

For confirmed placements, advertisers are invoiced for any placement fee once the placement is completed. Meaning, once the end date of a live placement is reached, the placement transaction will be generated in our billing system. Once the placement end date has passed, the placement status is changed to "completed". On the advertiser's next billing cycle, all completed placements will be added to their next invoice.

You can view live and up-and-coming placement commissions rates if an increase forms part of the placement, directly on the commission rates settings page.
We also have a video showcasing the Marketplace, which you can watch here.