We have put together some tips for affiliates to learn how to increase their website traffic and improve SEO.
Whether you have recently created a website or have had a website running for years, following our tips will help bring more visitors to your website and improve your SEO.
SEO is comprised of three main categories; Technical, On-Page and Off-Page. This guide will focus on the main tips we recommend for Technical and On-site.
First, we will start off with our On-page recommendations, which are the more basic and accessible strategies you can action.
Focus on a specific niche and keywords
Having a website with quite a narrow focus will allow you to be more relevant to that niche. To pick a suitable niche, find something that: has traffic potential (check the niche keywords search volume), has low competition, and it's something you are passionate about.
If your website consists of content that is broad and covers multiple topics, try creating content that is more unique, however, still relevant to what people want to read and know about. Your content must contain keywords relevant to the context, as this will help rank the page higher on search engines.
Tip: We recommend using the AnswerThePublic tool to search for keywords to gain insights on what questions the public ask search engines regarding that keyword. The insights and results AnswerThePublic display will help bring new content ideas to mind and help you to focus on what people are really after.
Differentiate yourself from all the other affiliate sites targeting that niche
A good way to do that is to perform a competitive analysis to see where you could add value to the user. Truly unique and valuable content is the only approach that's sustainable and will work for you in the long-term.
Write unique content and publish consistently
One main factor that contributes to how well your website will stand out from the crowd is how unique your content is and how frequently you publish. Again, you can use tools like AnswerThePublic to help discover what queries are asked regarding specific keyword/s. Based on your findings, you can create unique content to target these queries. Unique content that targets specific queries to keywords will rank your website higher.
By publishing content frequently, search engines will recognise active websites by ranking them higher. Websites will not be prioritised if they do not have regularly curated content.
Update the existing content on your website
This step is quite straight forward, all you have to do is take the time to update older content on your website. Search engines favour websites whose content is fresh and up to date, so it makes sense that a search engine will rank a website higher that has more recently produced content than a website with content from 2018. Simply adding in another picture and fluffing up the content with a few more sentences can go a long way.
Fill in the gaps
If there are any pages on your website with little to no content, it's time to change that. This is what SEO specialists refer to as 'thin content'. If a page on your website has no content, search engines will not want to rank your website any higher. Viewers don't necessarily want to visit a website that has incomplete or underdeveloped pages. Even your 'Contact' page with only a contact form can do with a little more beefing up.
Write title tags and meta descriptions
In layman terms, title tags and meta descriptions are what search engines display in the search engine results page (also known as SERP). The title tag is the heading of the link that a user clicks to be sent to a website, and the meta description is the brief summary below which a user reads to decide whether or not they want to visit the website.
It is especially important to have a title tag and a meta description for each page of your website as it determines what appears in search results. You can optimise your title tags and meta descriptions to target specific keywords that match the content of the page.
Please note: Search engines may have a character limit for title tags and meta descriptions. It is recommended to keep title tags under 60 characters and under 160 characters for meta descriptions.
Within the character limit for meta descriptions, you will want to briefly describe the page's content and focus on the keywords you want to target, this is the icing on the cake for website pages. The same goes for title tags, creating an eye-catching yet keyword optimised heading is the cherry on top and will go a long way in increasing your ranking on search engines.
...Here are our tips on the more technical side of SEO, as it is important to remember that even though search engines are robots, their algorithms are set up for it to think as a human would.
Make sure all your affiliate links are set as nofollow.
This is a link attribute that can be set on the HTML of your site, which tells search engines (like Google) that its crawler bot should not follow that link or use it in their authority rankings. For example, Google's policy is that every link that is not placed in the content naturally, but because it generates money for the site, like in advertising or affiliate marketing, should have a nofollow attribute. Not following this policy may cause your site to drop in the rankings.
Focus on site and URL structure
You may not have realised, but the structure of your site plays an important role in the ranking of your website. User-friendliness and simplicity please both the viewers and search engine crawler bots.
First, your website should have an intuitive and straight forward navigation structure. Ask yourself, 'Can I do everything in a few clicks or so?'. If your answer is yes, then great. If no, maybe this is a factor that can be improved on to rank your website higher.
Ideally, a website should follow a flat and organised structure, which can be seen in the image below: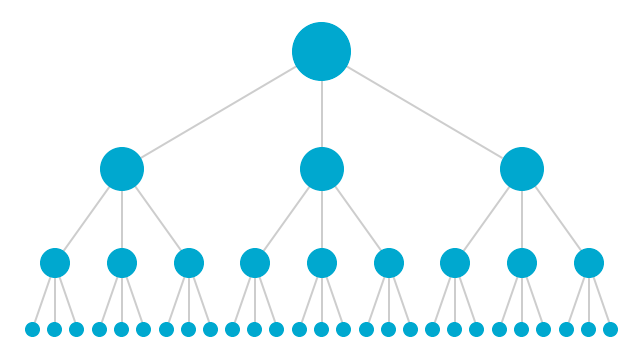 Following a flat and organised site structure will make it easier for search engine crawler bots to crawl every single page of your website.
This leads into our next tip for site structure, which is to focus on URL structure. Basically, your website URLs should also follow the same format as your navigation structure. See below URL structure example:
www.yourwebsitedomain.com/maincategory/subcategory/blogpost
This enhances the readability for both viewers and crawler bots and thus increases the ranking of your website.
Create An XML Sitemap
An XML sitemap is used by search engines to assist crawler bots with the indexation of your website. Creating an XML sitemap is definitely advantageous to have as search engines will be able to easily find all the pages of your website by visiting your XML sitemap file.
Add canonical tags
Simply put, a canonical tag is a small piece of HTML code that informs crawler bots of the main version of a page which must be indexed out of any other duplicate or similar pages.
If there are multiple URL variations that all access the same page, then the crawler bot will have no idea which URL of the page to prioritise when indexing your website. The crawler bot will then decide for itself what it thinks is the best version of the page to index.
If a page on your website is accessible via multiple URLs, then it is imperative to include a canonical tag on the main version of the page that you would like to be indexed. The same goes for any pages that have similar content.
Improve your page speed
Last, but certainly not the least is the speed at which a page loads on your website. Speed is a key element that contributes to the ranking of your website.
You can visit Google's PageSpeed Insights here to check a page's speed and to find out what needs to be improved on in order to lessen the loading time of a page.
If you would like more information on SEO, please feel free to watch our recorded webinar on How Affiliates can Amplify their Content with SEO.