A guide for newly launched programs
This guide gives tips on best practices to recruit, activate, optimise and ultimately get the most out of your affiliate program.
Part 1 - Recruitment
Recruitment is a fundamental process to get affiliates on to your program for them to be able to retrieve their tracking method for your program and ultimately drive clicks and sales for you. Here is a step-by-step guide of the most effective way to do this.
AFFILIATE DIRECTORY


Once logged in to the platform navigate to the top toolbar select Marketplace > Affiliates > Directory. Here you have access to every affiliate that is on the Commission Factory network

RANKING SYSTEM


Click the 'Rank' column once. Commission Factory has an algorithm that ranks the affiliates. This is based on three different factors:

How many sales the affiliates drive overall for advertisers on the network
How active the affiliate is on the network. E.g how many times they log on
How many advertisers have approved them on the program

Although this is a good starting point to identify the top affiliates, it is not recommended to completely rely on the ranking system as there may be a very good affiliate right for your brand, however, they may be new on the network and the ranking of the affiliate takes time to build.

COUNTRY & CHANNELS GUIDANCE
The directory will show the country the affiliate was established. Please note this doesn't mean they only operate in this country. They will also be able to work in the AU market so don't let this refrain you from applying. Secondly, under the column section, it will show you what affiliate type they are.
VIEWING DETAILED INFORMATION OF THE AFFILIATE
To find out more information about the affiliate or if you are not familiar with their name. Click the three dots on the right-hand side and select 'View affiliate'. Some affiliates company names will be different to the websites name so you will also be able to understand who they are via this section.



Once you are on this page, there are three sections for you to review:

About us – an overview of who they are
Media decks and brochures – Some affiliates will upload their media deck/ overview of their capabilities
Traffic sources – here you will be able to click on their websites to see how your brand may be promoted

INVITING THE AFFILIATE


Once you have reviewed the affiliate and would like to partner with them, click the three dots on right-hand side and click 'Invite affiliate'. If you would like more information, you can click 'Send message' and you can write to them via the message centre




If the affiliate accepts your invitation, you will see them visible in the Affiliate > Manage section. Their status will be 'Pending', the final step is for you to click the three dots on the right-hand side and hit 'Approve'






The affiliate will then get an acceptance email and it is their job to get you live on their website/app/ software.

GRANULAR RECRUITMENT METHODS
Other than the ranking system, you can also filter various affiliates on a more granular level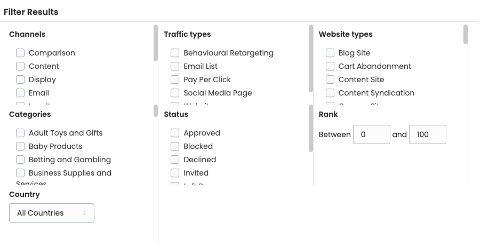 Channels
You can filter here if you would like to find affiliates based on the publisher type. For example, content sites
Categories
You can select this to help identify affiliates that promote a specific category type. For example, if you are a fashion brand, you may want to find affiliates that have a focus on promoting clothing and fashion
Traffic type
This is the way the affiliate promotes you, for example, a website or an influencer may be on a social media page
Website type
Gives you the ability to get more granular on the channels. For example, if you want a content publisher type who has a blog site
Countries
You can select a specific country the affiliate can promote in. For example, you may have a New Zealand website and therefore will want NZ specific publisher
Once you have selected the appropriate filter/s, hit 'apply' and the relevant affiliates will be available for you to review and invite.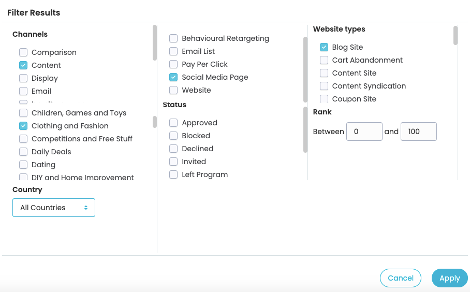 It is recommended to hit the rank button here as well, so the top affiliates based on your filters are at the top.
AFFILIATE SCREENING
Affiliates will also apply for your program if they see your brand a good fit for them. This means they send you an invitation to partner together instead of you inviting them. We suggest you ensure you are screening your affiliates at least once a week, however, when you first launch your program we suggest screening your affiliates daily. You will find the affiliates that have requested to join your program via 'Reports> Affiliates >Manage'

REVIEWING AFFILIATE APPROVALS


The affiliates that are waiting to be approved/declined will be found in this section and you will see the status as 'Pending'.

To review these affiliates, the first suggestion would be to go to the top right-hand corner and hit 'View > Show traffic sources'




This will then automatically open additional information including the affiliates traffic source (URL), an overview about them, the channel and publisher type they classify themselves as. In addition, their estimated weekly visitors are featured to give an indication of the reach.

If you would like to see more information about the affiliate, click on the three dots on the right-hand side and click 'View affiliate' or you are able to send the affiliate a message if you have a specific question by selecting 'Send message'.




If you have already made your decision, you can hit approve if you are keen to work with them or decline if they are not a good fit for your brand.

On the 'View affiliate' page, it will feature a whole 'about us' section and the affiliate may upload media decks or brochures so you have full transparency on how they work.
Part 2 - Engagement
Affiliates tend to have more than one advertiser they work with, so it is always good to keep your affiliate base engaged to make your brand stand out from the crowd. This section will give you advice and tips to keep your brand in the forefront of affiliates minds.
UPDATING AFFILIATES ON PROMOTIONS/ NEW CAMPAIGN BANNERS


If you are running an online sale/ promotion it is important to make affiliates aware. The best way to do is this firstly, navigating to Creatives>Promotions or if the promotion includes a code at checkout navigate to Creatives> Coupons.




Input the offer details. If the offer has a specific landing page, input it in the Target URL, include the dates. We recommend ticking 'show in annotations' as this will then be reflected in reporting and enables you to look back at reporting and see whether peaks align with your promotions. Also, you can share before the start date so affiliates can prepare uploading to their website. Once everything is added hit 'Save'


Once this has been completed, we highly recommend sending the promotional details (Envelope symbol on the top right-hand corner of the platform).


You can do this two ways:

Copy HTML code when creating a new message, advertisers can use what they use for their own CRM, paste the HTML code and then hit the code view button again, which will automatically populate the content

OR
Send a personalised message to all affiliates and can include their bespoke tracking links/ promotion link/ coupon link.



Once your message is completed and you have added the subject line and to 'all affiliates' (if you only want this to go out to specific affiliates then you can search their name too). You can schedule the message to go out on a certain date, send a preview so you know what it will look like once the affiliate receives or simply hit 'Send'.

PUBLISHER INCENTIVES FOR AFFILIATES


To engage affiliates and encourage them to promote your brand over your competitors, you may wish to run additional incentives. Some recommendations include:

Launch CPA increase for the first month of going live to encourage affiliates to go live quickly
Tiered CPA targets. For example; if you drive 3 sales in the first-month increase CPA by 1%, if drive 5 sales increase CPA by 2%, if drive 10 sales or more increase CPA by 3%

Please note, for any commission increases please reach out to your CF contact who will be able to assist with setting the required commission increase

Run a competition with your affiliates. For example, the content site that drives the most sales this month will win a $100 gift card

NEW SEASON/PRODUCT LAUNCHES


Affiliates are more like going to promote your products if they are kept in the loop with what are the latest trends or product launches. You can keep affiliates up to date via the message centre. You can do this via HTML code that you send to your CRM or a personalised message. We recommend sending out the latest trends and products at least monthly.
Part 3 - Optimisation
This section will give you tactics and strategies to optimise with partners in various ways. Furthermore, it will explain how you can book campaigns with affiliates via the platform.
EXCLUSIVE CODES


Affiliates will often request an exclusive code. To choose the right partner to test an exclusive code, we recommend you factor in some considerations.

What is their site traffic/ database?
Are they offering you additional exposure in return for the exclusive code?
Will the affiliate promote it on their social channels?
Is it the right audience for your brand?

These are good questions to ask the affiliate before supplying them with a code as you essentially want to get something in return for offering them something exclusive to them.

Once you have decided the code you would like to offer the specific partner and agreed on the exposure/ dates and additional incentives e.g. CPA increase, the next step would be to upload the exclusive code into the platform.


You do this by navigating to Creatives > Coupons

Add a coupon as explained in Part 2 Engagement. To make the code exclusive and only visible to the affiliate, you add their name in the 'assign to' section.

Finally, if it is exclusive and you are passing back to us the coupon variable, we suggest enabling a clickless coupon (exact match).

What is a clickless coupon?

A clickless coupon will attribute the sale to the affiliate that the exclusive code is for without a click required. For example, if a customer sees an exclusive code offline or on social and hasn't clicked on the link but makes a sale with the code. The sale will be attributed to the affiliate the code is assigned to (this will only work if you are passing back coupon data to the Commission Factory platform).

Prefix codes

You can also set up clickless tracking for prefix codes. For example, if you have single-use codes for a partner, you may wish to attribute any codes starting the same e.g. AFF. These codes will then be attributed to the affiliate if any codes start with this formation

CONTENT EDITORIAL
On Commission Factory, there is a huge range of content sites available for you to potentially work with. A typical promotional method for content sites is via the banners available for them on the platform. These should have been uploaded in the Creatives > Banners

section pre-launch. Content sites can post these on their website on specific pages including their homepage if they deem the brand to be a good fit.



You can also further optimise with content sites by working together for them to write editorial content about the brand.

Things to consider working with content sites with editorial content:
- Do they have similar audiences that would be interested in reading about your brand?
- Does the content site write content in an appropriate style that you deem a good fit for your brand?
- Do you have a certain topic/ theme you would like to be written about your brand?
- What are your objectives for the content article e.g. awareness, traffic, new customers?

Once you have decided you would like to work with a publisher to write editorial content and the theme. For example, 'Best fashion trends with [BRAND NAME]'.

It is recommended to provide to the publisher:
- Products to promote with product landing pages
- Hi-res images
- Any offers/ promotions you have on-site for further amplification

You may also wish to:
- Offer an exclusive code to the publisher
- Run a competition with the publisher
- Send them products for them to review and write about

Once you have briefed the publisher, they will write up content and post it on their website/ app. It is also good for them to promote this on their social channels if available.
3. MARKETPLACE
The marketplace tool is a great way to view and book available exposure opportunities direct with affiliates. To get to this section, go to Marketplace > Placements > Directory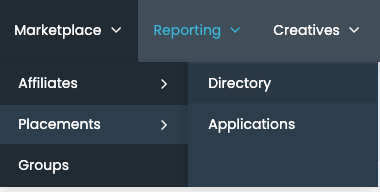 This will take you to where the affiliates will upload their campaigns and placements, they have on offer for you to book. The information they provide will be:
- The campaign name and details
- Whether it required a fixed fee for participation
- Days until the campaign starts
- Whether it needs a commission increase
If you would like to book one of the campaigns, click 'Apply'.
Enter which % you would like to increase the commission. For example, if you are on a 10% default CPA and you would like to increase to 13% for the campaign dates, you would then add '30%' in the commission increase. To check your rate is correct, you will see it appear under 'increased rate'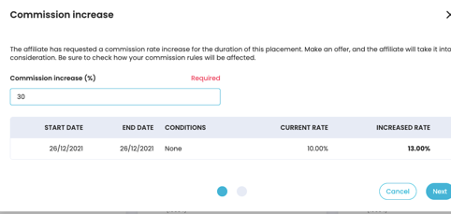 Once this is done, hit next, if the affiliate requires creatives, you can upload the assets here, they will mention it in the top box if required. Click next again, and it will take you to the final page with all confirmed details and terms and conditions.
If you scroll to the bottom of the terms and conditions on the right-hand side and tick the box agreeing to the terms and conditions and hit submit, that is all booked in for you and the commission increase scheduled automatically so there is no need for you to reach out to your AE to set up a commission increase.
To check your application has gone through and the status of the application, go to Marketplace > Applications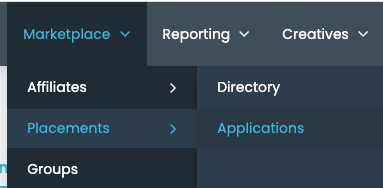 You can edit this placement by clicking threes dots at the end if you need to add new assets or change the commission increase for example. You can also withdraw the application from this section if you no longer wish to participate.
4. COMMISSION INCREASES/PLACEMENT FEES FOR EXPOSURE
Other than the marketplace, you can discuss with affiliates with campaign and placement opportunities direct. We recommend you review their media deck and see what you would like to book on what dates.
Affiliates have an array of different placement opportunities across all periods of the year to make it the right fit for you. They can also potentially create a bespoke campaign for you. If this is the case, we recommend you provide them with all information of what you desire to run with them whether that be a code/ cashback increase/ product promotion or a specific vertical promotion.
If you have agreed to give them a commission increase, reach out to your account exec who can schedule the rates for you. If you require a placement fee, you can add this for them.
Navigate to Reports > Transactions> View transactions then click 'Add Transaction'.

Here you add:
The affiliate you are giving the placement fee to
The order date set as today (it will lock as per your validation period)
In the order ID add the campaign details and brand so the affiliate can easily identify the fee (include an IO number if the affiliate has provided it)
Keep the currency as default
Sale value just add 0
Customer type new customer
Finally, in commission add the placement fee amount and hit 'Enter transaction'