An overview of different types of commission rates possible to set up on the Commission Factory platform
The Commission Factory platform has the flexibility to create and implement custom commission rates that align with your affiliate program objectives. These bespoke rates determine the amount of commission earned on a particular sale generated by an affiliate.
Commission rates can be set using one or a combination of program parameters and conditions. The number of and flexibility of the custom commission rates allows Advertisers to apply both short-term rules, dictated by date and time, and long-term ongoing rates. These rules can be applied both on an individual affiliate basis and a program-wide basis automated with ease and transparency for affiliate partners.
The custom commission rates area allows for rules to be set on 32 individual base parameters.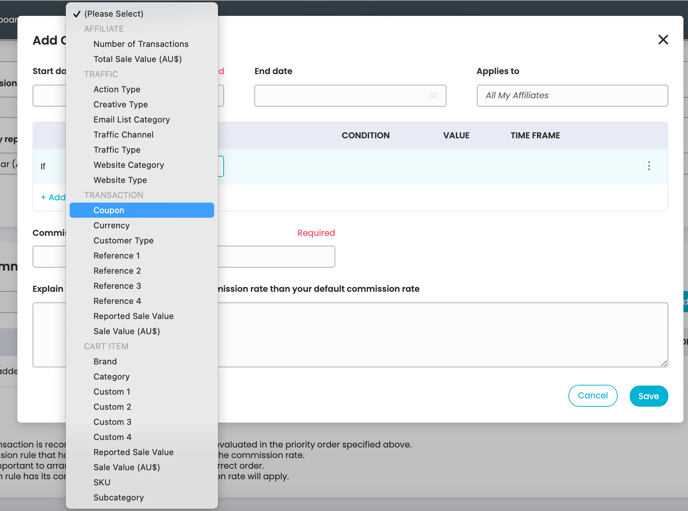 These base parameters are then combined with multiple conditions, values and timeframes to create hundreds of possible payout options. Given the fact that parameters can be used in combination opens up the possibility to combine multiple elements to create specific automated rules that strategically incentivise affiliate partners.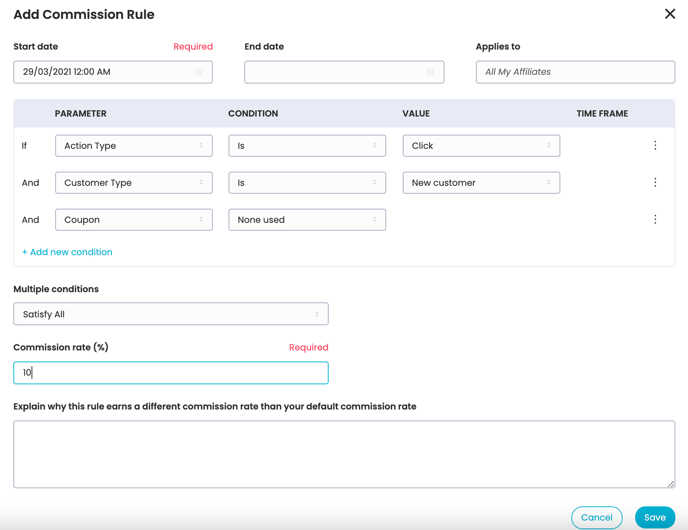 Commission Rates Breakdown
Having reviewed an overview of the commission rates here is a full breakdown of the base parameters on offer for reference. Commission rates are grouped into four main parameter types Affiliate, Traffic, Transaction, Cart Item.  

Affiliate Commission Settings
Commission rules can be set up to incentivise affiliates on your program. This includes setting up targets for your affiliates by the number of transactions or sale value.
Number of Transactions
Total Sale Value
For example: "If the sale value is equal or greater than $50K over the past 30 days Commission rate % = 10%"

Traffic Commission Settings
If you wanted to implement a commission structure based on the types of affiliates you have in your program or the type of traffic they are sending to your program, you can set up rules to manage these.
Action Type
Creative Type
Email List Category
Traffic Channel
Traffic Type
Unique ID 1
Unique ID 2
Unique ID 3
Unique ID 4
Website Category
Website Type
Common examples include the following:
"If Website Type Is Coupon Site" Commission rate % = 2%
"If Website Type Is Blog Site and Total Sale Value is equal to or greater than $1K" Commission rate % = 8%

Transaction Commission Settings
Transaction type commission rules allow setting rates that may be aligned to a program objective, including new customer acquisition, help manage your coupon strategy, or to reward affiliates who achieve a certain sale value threshold.
Currency
Customer Type
Reference 1
Reference 2
Reference 3
Reference 4
Reported Sale Value
Sale Value (AU$)
Common examples include the following:
"If Customer Type is New Customer" Commission rate % = 5%
 "If Customer Type is Return Customer" Commission rate % = 3%
 "If Coupon Is Not in Program" Commission rate % = 1%

Cart Item Commission Settings
Cart item rules allow detailed commission rule setting at a brand, category, sub-category or SKU detail level.
Category
Custom 1
Custom 2
Custom 3
Custom 4
Reported Sale Value
Sale Value (AU$)
SKU
Subcategory
Common examples include the following:
"If Brand is equal to Apple" Commission rate % = 0%
 "If Category is equal to Sporting Accessories" Commission rate % = 5% 
"If SKU is equal to 10204563" Commission rate % = 7%

Please ensure your program tracking provides the variables you wish to create commission rates from otherwise it will not be possible, so cart items, customer type, coupons for example.
---------

We don't recommend setting up commission rules that are overly complex or which may be perceived as unfair from an affiliate perspective. If you have any queries on commission rules, please reach out to your dedicated account contact at Commission Factory.