Coupon and promotion best practice. A step by step guide to uploading your creative.
How to accurately add a coupon or promotion to your account so that it is in a usable format for your affiliates.

1.) You will add coupons or promotions in your account under "Creatives" menu. All creative types can be added here:


When adding a new coupon, you must enter all the information required for the proper use of the coupon.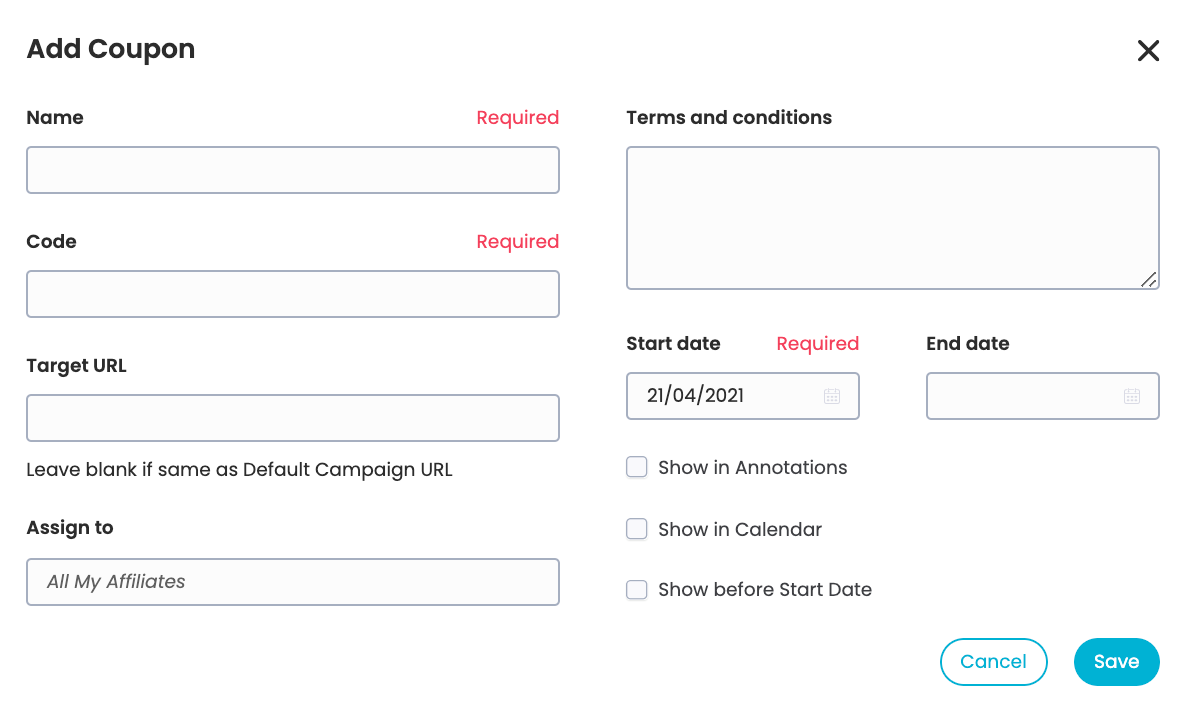 Name: this field is the title or offer name, so for example: 10% off full price items or $5 off your first purchase" - it should describe the offer and be the title the affiliate will use in their promotion of the code. This needs to be written in a logical and appealing way for it to be understood by consumers. Please do not capitalise the name of the offer.

Code: this is the actual code required by the customer to redeem the discount, so SAVE10 of 5OFF

Target URL: If you want the affiliate to link to a specific page on your site instead of the homepage, you can enter the deeplink/landing page here. If homepage only you can leave this blank.

Assign To: By default this will be set to "all of your affiliates" so anyone who is joined to your program can promote the coupon. You can also select an individual affiliate here if the coupon is exclusively for them to promote.

Terms and Conditions: these should always be populated with some terms. Unless your coupon has no restrictions, can be used on everything across site, all customers etc. terms will need to be set. Please do not capitalise the terms and conditions.

Start and end date: These should ALWAYS be specified. If you have an ongoing code with no expiry, it is best practice to provide an expiry date on the code anyway, you can set it for the last day of the year and then extend the code for the next year if required. Affiliates are usually required to provide expiry dates so please ensure you enter an end date.

Annotations and Show in Calendar: You should always tick these settings; it means that in your reporting you will see when the coupon went live and ended which helps you to track any peaks in sales and the offer will also show up in your calendar and the calendar of any affiliates joined to your program.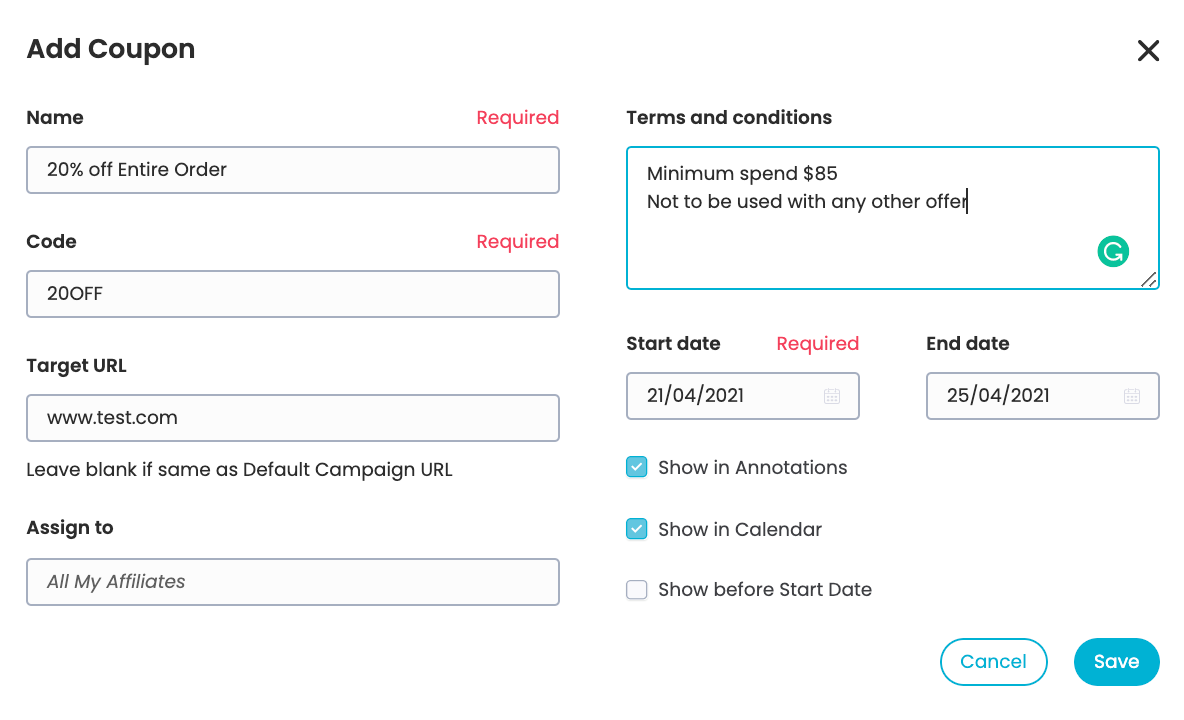 The above example (from the advertiser interface) has a specific name, very clear in what the offer is, a target url, the full terms and conditions and a start and end date.
If you make this code exclusive to one single affiliate you may see the option to make the code clickless or with either an exact match or a prefix match. a Clickless code means the customer does not have to click a link in order to generate a trackable sale. For more information on clickless codes please see this help desk article: https://help.commissionfactory.com/clickless-codes

The above example (from the advertiser interface) show the options which become available once a code is designated to a single affiliate, i.e. an exclusive code
One you have filled all the required fields for your code you can save it.

The above image is what the coupon looks like from the affiliate account. Has all the required detail.

Adding a promotion is exactly the same as the above, however there is no code required. Promotions should be used for any offer where a coupon is not required to redeem. So for example onsite sales, or other general offers, for example: Up to 40% of Sale. All other settings should be entered in the same way as they are for coupons.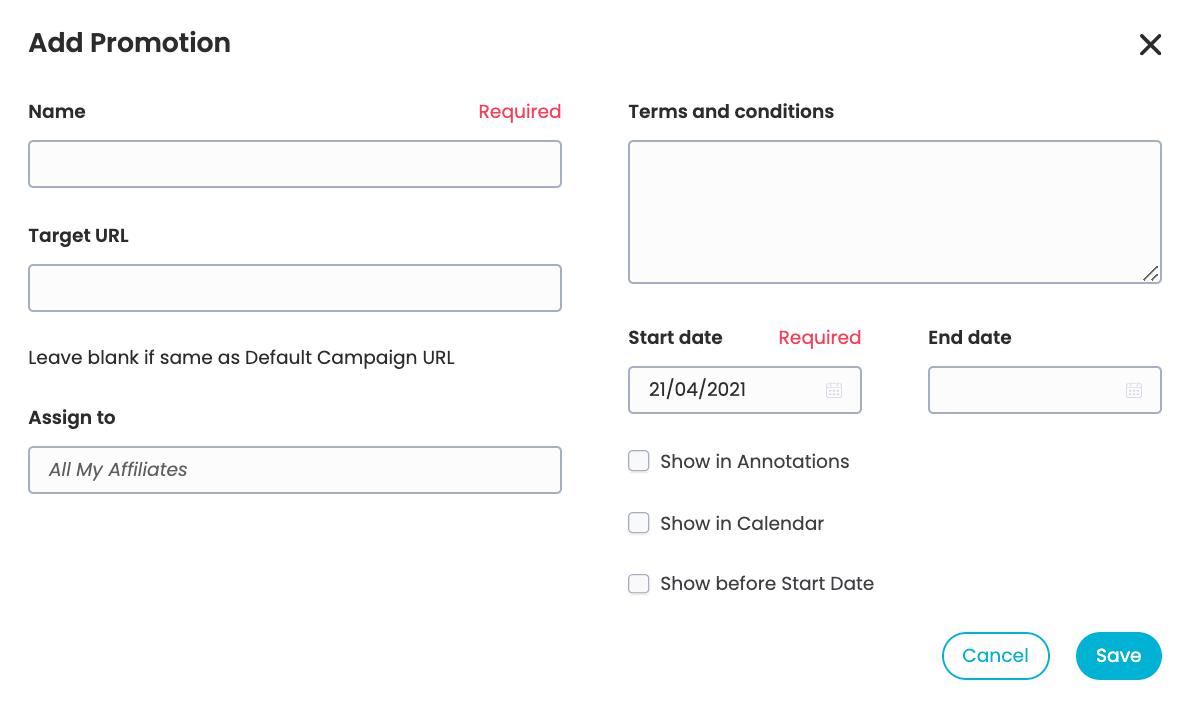 Types of coupon codes and best practice:
Coupons should be provided to affiliates with the goal of motivating the customer to a desired action. Please do not create large numbers of specific category or product based coupon codes as these do not have the desired effect on motivating the customer. Coupon and offers that work best include:
Buy one, get the other X% off or Buy two, get one free (motivated to purchase more items)
X% off when you spend $Y or more (stimulates larger order amounts)
$X off orders over $Y on a select product line/type (highlight different products this way, move old stock)
$X off a select product or range (moves slow-selling stock)
Free Shipping deals with minimum order value of $X
Discount Shipping deals with a min order value
Spend over $X amount and get a free gift/sample (popular or exciting products are best)
Buy X product and get an upgrade to X2 (up sell a better product/package, great for subscription models)
Spend an Save - tiered discount based on min spend
Sign up to our Newsletter and get $X off
Something to remember is that many affiliates are using our coupon code feed for automation so if the coupons and promotions you upload are not done correctly, it removes the automation, as manual adjustments are required. This can lead to affiliates favouring advertisers who follow the best practices outlined here.